Join BRAM Technologies at International Exhibition NATEXPO 2019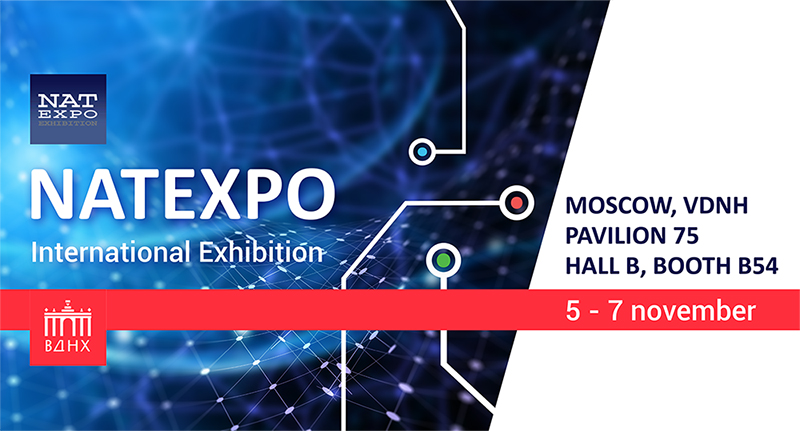 At NATEXPO 2019 BRAM Technologies turns the spotlight on to its latest server-based innovative solutions for customers to better create, collaborate, control.
NATEXPO 2019 will be held November 5-7 at the VDNH (Estate 119, Prospect Mira, Moscow, pavilion 75, hall B). Visitors to BRAM Technology's stand (B54) will experience solutions for Playout Automation, NRCS and Live Production: AutoPlay, NewsHouse and Studio X with completely new features.
AutoPlay, a broadcast automation system which is available in various modifications. Based on the A-MAM system it provides multi-server, multi-channel and multi-format playout 24/7/365 with studio equipment control and full redundancy possibilities. NATEXPO 2019 will see the latest features in it's playout functionality, including the ability to insert teletext and subtitles. And a new advanced graphics software module to enhance channel branding
NewsHouse, a robust solution which is suitable for news production from planning to broadcast in digital format with a great set of functions in a single interface. It is available for various type of users. It' s functionality includes managing rundowns, as well as script preview from the single interface. Users can employ a built-in editor or integrate it with third party NLE systems. Visitors to our stand will be able to experience a web platform News feeds ingest module NewsWeb to facilitate content distribution, an easily manageable prompter Teleprompter and an advanced graphics software module TitleStation Mix.
Studio X, a system for multichannel record, playback and monitoring can find application in studio and OB-Vans. It comprises the most demanding functions for multicamera shooting and the further NLE operation; media' editing and playback in process of ingest. It can also be easily integrated in a broadcasting or production workflow.
NATEXPO 2019 Highlights
Powerful software module Teletext & Subtitle Suite to insert teletext & subtitles
Run on a state-of-the-art web platform News feeds ingest module NewsWeb to facilitate content distribution
Easily manageable prompter Teleprompter. It can work either independently or act as a part of NewsHouse ecosystem. It does not require any special device
Advanced graphics software module TitleStation Mix to manage and playout graphics
Robust software module SystemMonitor to enable flexible reliable single-system control and centralized end-to-end monitoring
"Today's broadcasters must compete with each other, meet tight budgets and deadlines, maximize the value of their assets and optimize businesses, so broadcast automation technologies must work more efficient," said Sergey Vanyukov, CEO at BRAM Technologies. "We're continually evolving our solutions to exceed customer demands, engineering for greater efficiencies, delivering across more platforms, and providing more control. At NATEXPO we look forward to demonstrating how BRAM Technologies introduces proven technology advantages».
BRAM Technoloogies executives will participate in a series of speaking sessions and award ceremony during NATEXPO 2019.
NATEXPO 2019 attendees are invited to explore the full range of our solutions and experience onsite demonstrations, booth B54. Reserve your spot in advance as soon it can get crowded, email This email address is being protected from spambots. You need JavaScript enabled to view it.