The All-Russia State Television and Radio Broadcasting Company (VGTRK) creates History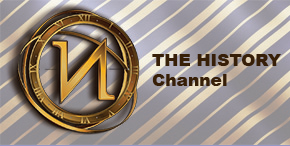 «We lacked the historical aspect, and today we are launching it» - the head of the VGTRK digital TV Directorate Igor Shestakov
May 9, 2013. In honor of the memorable celebration of Victory Day the All-Russia State Television and Radio Broadcasting Company (VGTRK) presented the new, long-awaited History channel. The VGTRK's specialists decided in favour of the leading on the Russian market Azimuth video servers produced by the Bram Technologies company to generate the on-air signal. Azimuth video servers provide the History channel broadcasting 24/7 playout with full redundancy.
On the 9th of May 2013 at 15:00 after the grand Victory Day parade on Red Square in Moscow, the grand opening of the History TV channel was held. The ceremony took place at the State Historical Museum with the participation of the Minister of Culture of the Russian Federation Vladimir Medinskiy, as well as artists, philosophers and the Russian Military Historical Society representatives.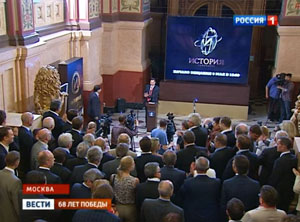 Opening of the History channel. Vesti TV news propram screenshot
History became the 10th channel in the VGTRK's Digital TV package. Today, it has already included Fight Club, Russian Romance, Russian Bestseller, Sarafan, My Planet, Science 2.0 channels broadcasted on the base of the complex TV automation system AutoPlay 7 working on the Azimuth video servers.
The primary target of the History channel is popularization of history as a science. TV documentary films and projects will tell the audience about Russian history and discover historical events of a global-scale. The broadcast will consist of VGTRK's own programs, such as "Symbols of Russia", "History of the USSR. As it was", "History of Russia in orders", as well as programs of BBC, History Channel, Skyvision and other world-famous TV channels. Therefore, the History channel contents will interest not only Russian, but also the international audience.
Starting the History channel was a part of a unified concept of Russian history school teaching development. According to the instructions issued by the President of the Russian Federation Vladimir Putin, the concept will have been developed by December 1, 2013. However, scientific and educational projects and films shown on the History channel will be of interest not only to young people who are just beginning to learn the science of history, but also to adults, who are more interested in the details of historical events.
In consequence of successful partnership of VGTRK and Bram Technologies specialists the first Russian specialized TV channel History is now on the air and provided for all cable, satellite and multiservice networks of Russia and the CIS countries.