Functions
Broadcast recording on the input camera channels (from 1 to N) with the possibility of simultaneous replay
Selection of unlimited quantity of key moments (highlights) on any channel
Possibility to edit the selected moments with setting of the exact In and Out marks
Immediate creation of a set from the selected scenes for its playout at any time with a dynamically changing speed from 0 to 200 % or -200% to 200 %, without interrupting the recording process
Selection of one of the interpolation methods for the quality slow motion replay
Mixer effect applying between the scenes during slow motion replay
Possibility to import animation files with alfa-channel and their further use in a process of replay
Possibility to prepare interim and final summary about the most exciting moments of the broadcast directly during the event recording
Possibility to export the reports on broadcasting and the whole recorded material to DVD
Signals creation and ingest to control the air clip blocks from the other TimeRunner SE server blocks
Independent network places of different functionality with the possibility of their collaboration and connection during the system operation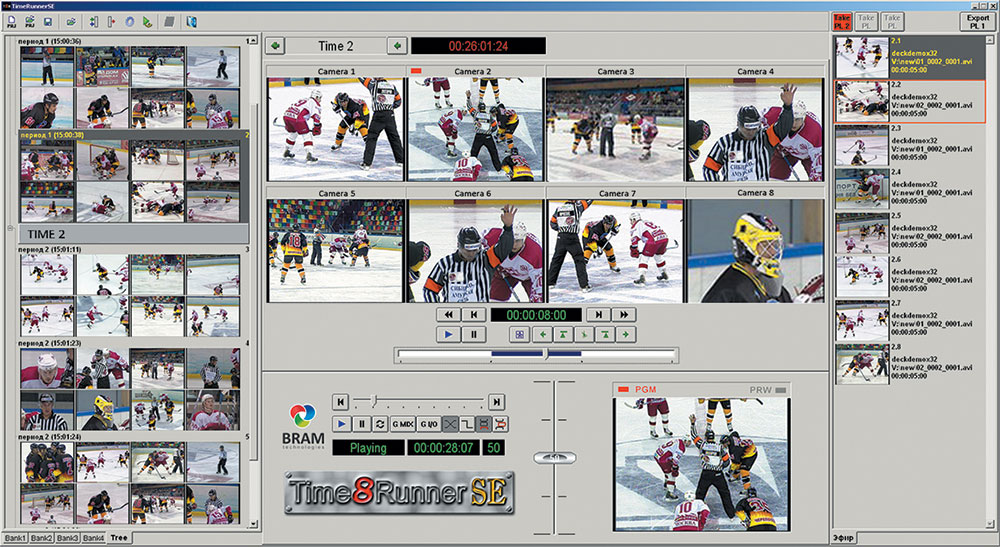 Features
Operations
Synchronous recording of video, audio and time code from unlimited number of sources to the disk array(s)
Highlighting key (scoring) moments
Compilation of clips sets from the highlighted material and its playback with dynamically changing speed
TimeRunner SE produces these operations without interrupting the recording process. The signal recording is carried out in compressed or uncompressed form that is necessary to obtain maximum image quality of replays.
TimeRunner SE has a distributed multi-user environment with multi-functional working stations. Multi-server ideology provides unobstructed expansion in a number of input and output channels and allows configuring the system for any creative task and the required number of working stations in the field or in a studio. Independent network places of different functionality gives the possibility of their collaboration and connection during the system operation.
The system is capable to store and apply complex graphics and animation elements for replays graphics.
Additional Advantages
Customizable keyboards shortcuts for system control
Clear and easy interface
Functional and ergonomic control panel with Sony Jog-Shuttle and T-bar handle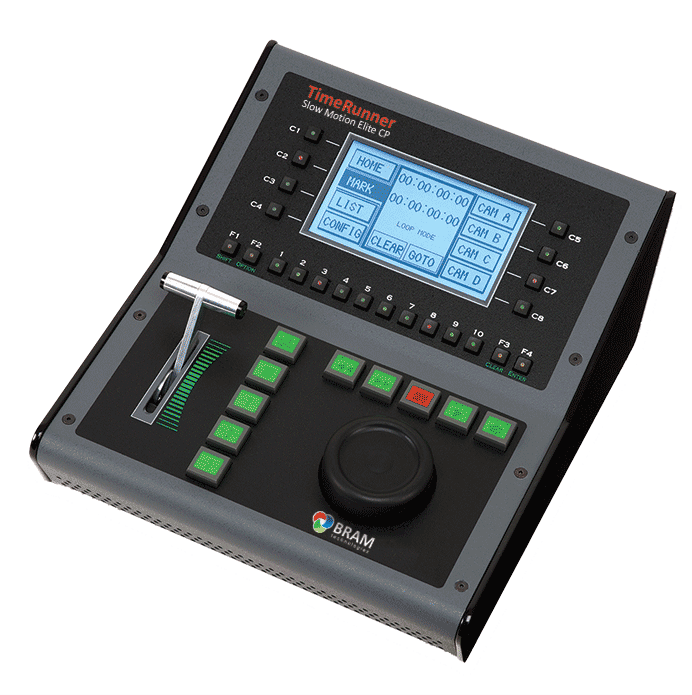 Application
Multi-channel recording and slow-motion replay in SD/HD/UHD during sports, live events and shows broadcast, highlighting key moments