9 HD channels in one Azimuth videoserver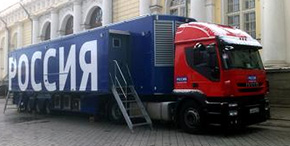 In March 2013 the BRAM Technologies company together with VGTRK specialists successfully launched a new multichannel editing complex in OB van of the ROSSIYA HD TV Channel.
The core of the complex is a 9-channel Azimuth HD videoserver with an integrated disk subsystem and Final Cut Pro system based on Mac Pro. The editing complex provides simultaneous recording, editing and playback of video in 1080i format. The Azimuth videoserver, running by the SerialCam HD multichannel recording system, simultaneously records up to 8 channels of high definition video in QuickTime MOV format with DVCPRO HD codec. Material is recorded in files of specified duration that are closed automatically without skipping frames between the adjacent files. The server is connected to Tally outputs of a SONY video switcher. It allows SerialCam HD to receive Tally signals and generate EDL MultiClip (MultiCamera) in XML format for Final Cut Pro while recording.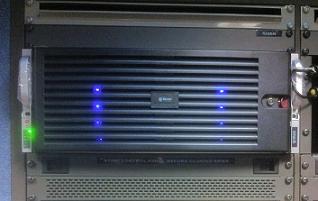 The station is connected directly to the videoserver and allows to make editing on disk array without delay. After another automatic closing of eight video files and their XML, an editor opens MultiClip editing project on the Final Cut Pro TimeLine. After finishing the operational fine cut of the project is compiled into a file. Videoserver output channel is running by the AutoPlay 3 HD automation playout system. The compiled file of the project is added to an AutoPlay 3 HD air playlist. The automation playout system provides playback of avi and mov files in SD and HD resolution according to the playlist, adds, edits and deletes events from the playlist.
Thus, the new complex for live broadcasting allows to have a final material in the air just a few minutes after the start of broadcast recording.