Benefits
The Azimuth range of multichannel videoservers satisfies the most demanding requirements of video production and TV broadcasting, integrating all the newest formats and protocols with SDI, ST-2110 or NDI transport. Azimuth videoservers guarantee an unprecedented level of scalability and flexibility and provide up to 4 UHDp50 or up to 16 FHD channels per chassis, making them one of the highest-performing solutions on the market. 
A variety of formats
Azimuth videoservers offer the simultaneous support of various video formats, including UHD, HD and SD, with up- and down- scaling available on every I/O port.
Channel allocation flexibility
The ability to quickly reconfigure the server channels for tasks such as recording, playout, alpha-channel generation allows for hundreds of proven configurations for any type of workflow.
Hybrid connectivity
The videoservers offer hybrid SDI/IP connectivity to external devices and allow full file and stream interoperability due to comprehensive protocol and standard support.
Wide range of file formats and codecs
Azimuth videoservers support file operations with varied containers and codecs, allowing for seamless compatibility with all popular NLEs.
Production
The Azimuth videoserver range allow simultaneous video ingest to internal storage and network locations, allowing for QC analysys, proxy creation, NLE access and playout while recording.
Playout
Azimuth videoservers provide automated rundown playout with graphics, sound normalization, studio equipment control and teletext/subtitle insertion.

Features
General
On-the-fly channel repurposing for recording, playout, pass-through, fill+key pairs, internal input routing
 Up to 16 sound channels per video channel
UHD to HD or SD, HD to UHD or SD, SD to HD scaling for every input and output channel; 
IP streaming for input and output channel monitoring
Status and operations logging and reports 
A board-less operating mode with NDI for testing or cloud usage scenarios.
Recording
Multichannel synchronous and asynchronous recording
LTC, VITC, NTP, PTP, System Time timecode support
Bi-Level, Tri-Level, SDI synchronization;
Scheduled and manual recording with no operator control required
VTR ingest by timecode with RS-422 control
Endless loop file recording and playout out for TimeDelay
VBI (vertical blanking interval) capture in TimeDelay
Simultaneous recording to internal storage, a removable device and a network location in different container/codec/format combinations
Preview and edit while recording
A mode for recording into fixed-length chunks
SDI and AES input signal analysis
Automatic quality control on video (black, freeze) and audio (silence, levels) inputs
Control tag detection on SDI inputs: SCTE-104 in video, DTMF in audio, X31 in data range
Subtitle detection and decoding
Playout
Multichannel automated broadcasting
Autonomous playlist execution with no control software modules connected
Possibility of forced control module connection and disconnection for playlist progress monitoring and modifications
Back-to-back playout of files of different formats, codecs and standards in a single playout
Endless and clip modes for TimeDelay loop file playout
VBI playout for TimeDelay
External 3rd party router control
Internal input switching
RS-422 VTR control for timecode-based playout
GPI signal output
SCTE-104 tag generation in SDI output video range
Playout of files still in the process of recording, import or copying to videoserver storage
Multichannel playout with manual control
Variable speed (-200 to +200) playout
Jog/Shuttle preview and playout control on outputs
LUFS audio level normalization on output channels
Simulcast of same clip on multiple channels in various combinations of formats (UHD-SDI, HD-SDI, SD-SDI, UHD-IP, HD-IP, SD-IP)
Video and audio test signal generation
On-air graphics
A graphics overlay buffer for each playout channel
Pass-through graphics overlay and Fill+Key signal generation for dedicated graphics channels
Simultaneous rendering of up to 30 graphical objects on 5 keyers per output channel
Real-time scene rendering
Multiple software modules can control each keyer
Input and playout video signal can be repurposed in the output graphical composition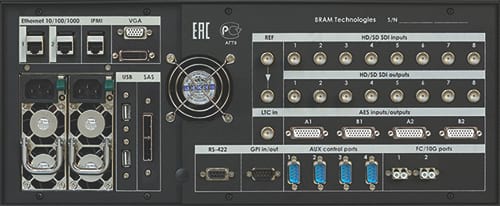 Specifications

Input/Output boards

Softlab-NSK – FD7xx and u
Blackmagic Design – Decklink Duo 2 and up
Matrox – xMio2 / DSX LE3 and newer

Channels 

Video 
SD: 720х576, 50i/25p, 4:3 и 16:9; 
HD: 1280×720, 50p; 
FHD: 1920х1080, 50i/25p/50p; 
UHD: 3840х2160,25p/50p; 

Audio 
SDI embedded, up to 8 pairs for each video channel 
AES unbalanced, 8 input and 8 output pairs assigned to multiple video channels (optional) 
16/24 bit 48kHz 
Interfaces 

IP 
10Gb or 25Gb Ethernet SFP+ ST-2110 (-10, -20, -21, -30, -31, -40) 
SDI 
Video: 12G/ 3G/ 1.5G, HD-BNC mini or BNC 
Audio: SDI Embedded, AES unbalanced  
IP Preview 
IP-UDP/RTP for each port, h.264 +AAC 
GPI/Tally 
4/2 or 8/8 Inputs/Outputs (optional) 
NDI v5 input and output (optional).
Files: codecs and formats

Video
DV25/ 50/ 100,
MPEG2 I-Frame/ IBP
AVC-Intra, AVC-Intra 4K, AVC-LongG, AVC/h.264, AVCHD
Sony XDCAM HD/ HD422/ EX, IMX, XAVC, XAVC 4K, XAVC 4K Long
Apple ProRes 422/ LT/ HQ
Avid DNxHD
Audio
Uncompressed PCM, AAC, AC3
Proxy
h.264 + AAC
Containers
AVI, MXF, MOV, MP4, TD, WAV, TPJ
Storage

Internal or external media storage
Hot-swapp drive replacement in internal array
Network access

IPMI 1GbE (RJ45) control port
LAN port redundancy
1GbE, 2xRJ45 (standard)
10GbE, 2xRJ45 (optional) 10/25GbE, 2xSFP+ (optional)
Operating system

Windows 10 Pro 64-bit, Windows Server 2019 SE