Azimuth
The most powerful multi-channel Azimuth video servers for audio-video materials ingest, store and playback can be used in stationary control rooms or OB vans.
Azimuth series of video servers use Matrox DSX OEM video cards for audio/video ingest and playback. Technical characteristics of these cards meet all the international video standards. The world's leading manufacturers that use DSX cards in their products confirm its reliability.
Azimuth video servers have a full range of analog and digital video inputs/outputs – composite, component, SDI, HD-SDI/3G. Video and audio are hardware synchronized. Azimuth supports a wide variety of codecs that allows working natively in most of non-linear editing systems.
Each output channel of the video server has a graphic buffer for titles and graphics overlay.


Features
Scalability. Azimuth video servers allow simultaneous multichannel ingesting and playback. Channels quantity of any basic video server can be increased. Single video server can record and playback up to 16 video channels. Most of the applications support the use of multiple video servers, which makes the extension capabilities of channels quantity almost limitless. Video servers can be connected by Ethernet or SAN.
Control. Having a wide ranhe of interfaces for managing and interacting with other equipment RS-232 , RS-422, GPI, Gigabit/10G Ethernet, IOG, USB, SAS, Fibre Channel (optional) allows the Azimuth video servers to be integrated into virtually any hardware complex.
Disk Subsystem. DriveBox series of external disk arrays, optimized to work with audio and video data, are connected to the video server using SAS or FC.
Reliability. The power to video server is supplied by 2 hot-swap PSUs. Two mirrored system drives and hardware RAID controller store operating system and data. Ventilation system consists of 8 fans that ensure optimal heat transfer. Robust metal housing protects the delicate electronics. Quality control of nput components and weeks of load testing of the ready product provide reliable operation of video servers within TV station.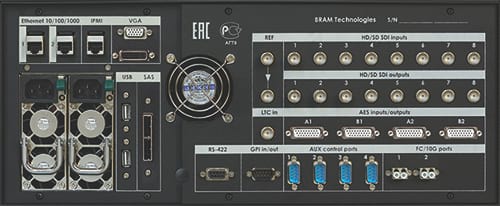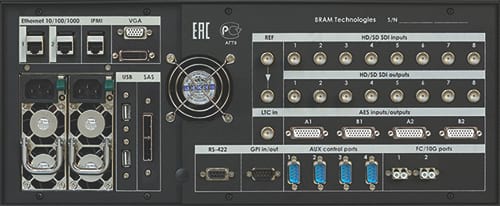 Technical Specification of Videoservers:
AZIMUTH VS-52XXAD and VS-55XXADHD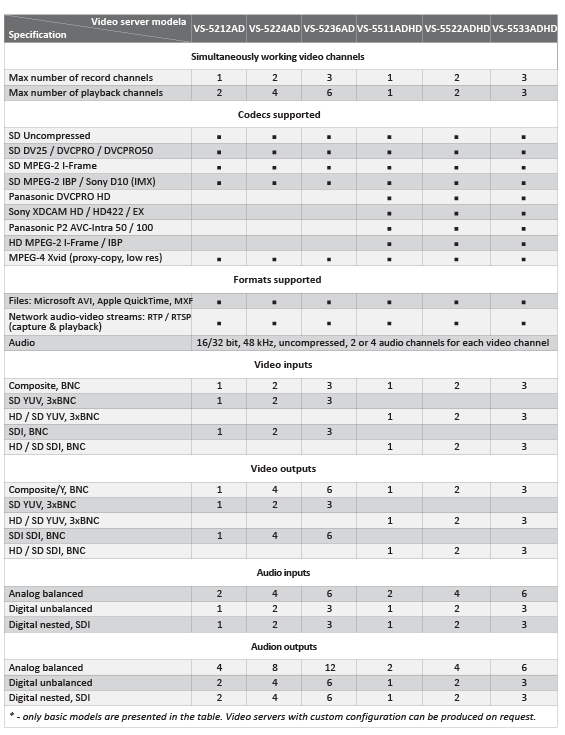 Technical Specification of Videoservers:
AZIMUTH VS-56XXD and VS-58XXDHD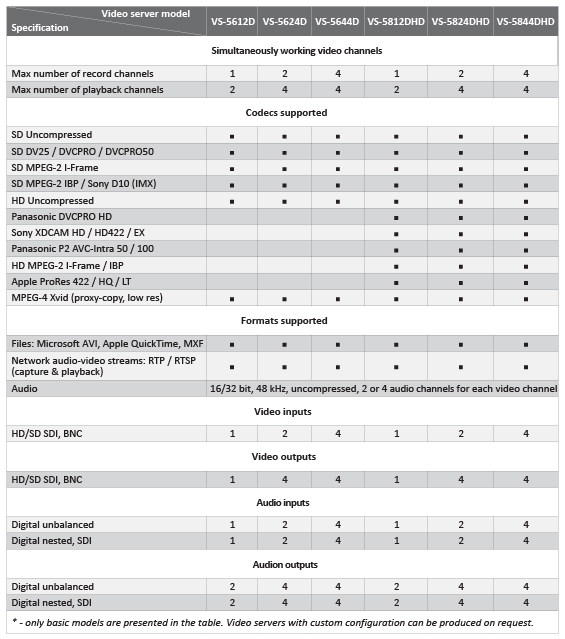 Application
At the moment, the following systems work with video servers of Azimuth series:
AutoPlay – complex broadcast automation and media asset management
NewsHouse – news preparation and playout
VideoArchive – integrated media content accounting and management
TimeRunner SE – organization of video slow motion replay
SerialCam – multi-camera ingesting for TV shows and programs