Architecture
During the recording process, industrial H.264 hardware compression cards are used. This allows obtaining high quality video and audio under small rates. AirMonitor is able to record up to 64 audiovideo channels to a single server. The system consists of a video server with installed software and client 4 -channel player, which can be placed at an unlimited number of workstations.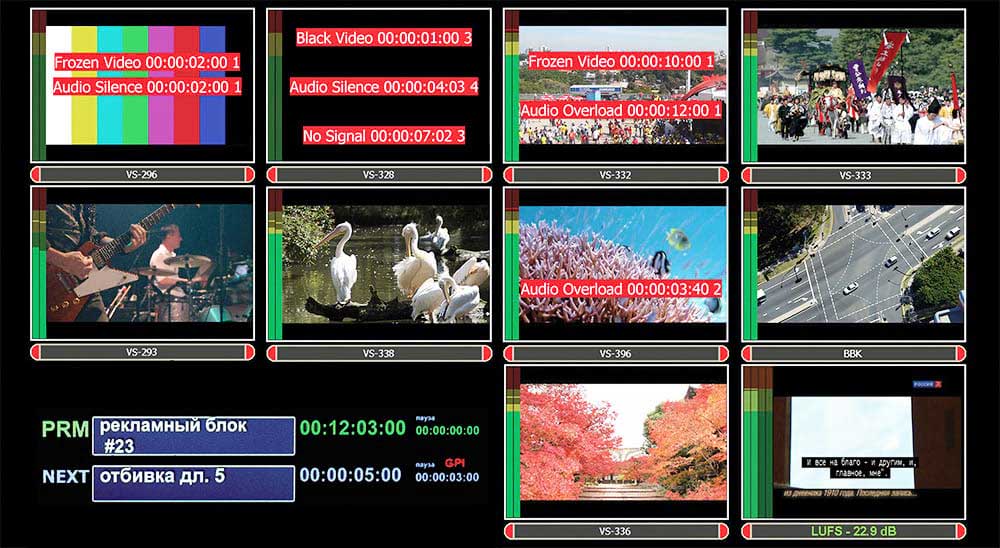 Functions
AirMonitor is capable to record analog video signals of PAL or SECAM standards and unbalanced analog audio signals. One recording channel includes 1 video and 1 audio signal. Material is recorded at 25 fps with a user-defined datarates. To decrease the video files volume, size of the recorded picture is reduced to 1/4 of the standard PAL resolution (360×288). The system also allows to reviewing all the connected channels.
To save disk space, AirMonitor can record materials in a loop file, so that the recording video and audio information (when the array is full) automatically starts to delete an old information and a new material is recorded in its place. A size of the loop file is set by a user and is limited only by disk array capacity.
For each channel, a recording schedule can be configured: random interval recording or periodic by the hour, day of the week, date, etc. For example, it can be configured to record one channel on Wednesdays from 7 to 9 pm and on Thursdays from 5 to 6 pm, and another – every day from 6 am to 12 midnight.
The recording video can be overlaid with an information about the channel name, current date and timecode. Brightness of this data is constantly changing and adapting to the brightness of the basic image. This allows keeping the contrast level required for good readability of the data, but at the same time to see the full image not covered by the on-screen graphics. For the local clock of video server synchronization to sources of time signal local GPS receiver or NTP server can be used.
Features
Recording of analogue PAL or SECAM video signals and unbalanced audio signals
Possibility of recording materials in the ring
Capability to set individual recording schedule (arbitrary or periodical)
Possibility to view recorded videos on remote workstations
Simultaneous synchronous playback of up to 4 video channels
Video playback to composite or Y/C outputs
Installment to arbitrary number of workstations
AirPlayer Module Features
AirPlayer allows reviewing recorded video at remote workstations. AirPlayer is capable to display up to 4 video channels simultaneously. Built-in search system allows you to instantly find and show video material of a particular channel in a specified time interval. The required fragment can be easily found on a convenient timeline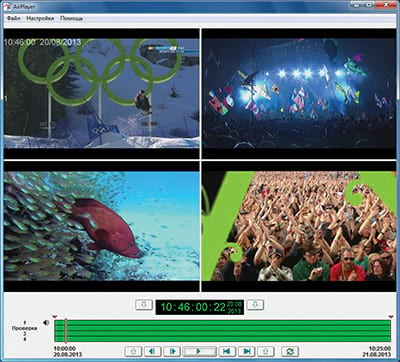 While reviewing a user can with a frame accuracy set the start and end marks of the required segment for its export to a file with a standard Xvid codec. The final file can be sent to advertisers as a confirmation to the number of ad views and duration.
Video window of AirPlayer is duplicated to video output of a graphics card that allows video take out to composite or Y/C outputs. This is sufficient for information recording to traditional video recorders in PAL format.
Number of workstations where AirPlayer can be installed is not limited. This means that any user with access rights to an array of the AirMonitor system can search, review and export the required fragment in the network at his workplace.
Application
The range of AirMonitor application includes all TV and video surveillance systems, broadcast and satellite channels monitoring.
There is the possibility of AirMonitor and AutoPlay systems interoperation. While viewing a log report on clips that went on the air in the AutoPlay system, the player of AirMonitor shows the video recorded to AirMonitor array for the specific period of time by the defined channel.
In many cases, in addition to software signals, the recording of signals from the on-air control room key points is carried out. Under such scheme it is easy to identify the «weakest link» in case of failure.
To identify the «human factor», some users additionally install surveillance cameras in on-air control rooms. Video signals coming from these cameras are also connected to the AirMonitor system. Its multi-channel player helps to evaluate the personnel actions and its influence on the air quality.