System Architecture
VideoArchive has distributed network structure and can include a variety of software and hardware components. Software components of the system are a common database and a number of multi-functional self-contained modules. The database of VideoArchive is similar to the AutoPlay and NewsHouse database, therefore it is possible to upgrade to any of these systems. Hardware components of the system are the database server, media and video servers, tape or disk libraries, client workstations, VTRs.
VideoArchive provides reliable data storage with built-in self-test and backup functions. The system can easily be scaled by the extension of existing or adding of new storages. The scaling of the system can be carried out without stopping the complex operations.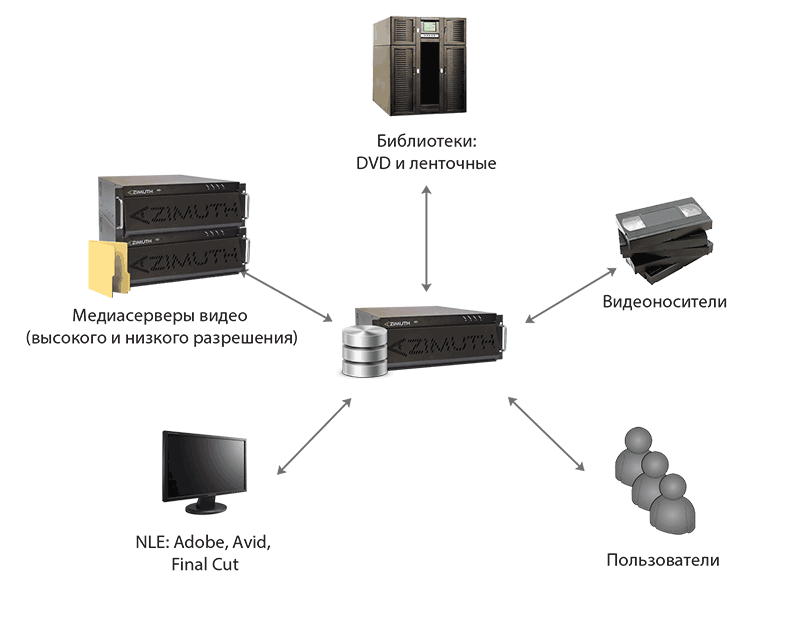 Features
Media Materials Storage
The basic unit of materials storage is a clip consisting of audio-video file and its description – metadata.
The VideoArchive system has a distributed data storage structure. All service information and metadata are located on the database server. Media materials can be stored on different types of storage devices. Depending on the access time to materials, storage devices are divided into on-line (available immediately and do not require human input), nearline (available through minor interval of time and do not require human input) and off-line (available after a considerable period of time and require human input). The on-line storage devices are video and media servers, near-line – tape or disk libraries, off-line – external computer storage devices or tapes.
The VideoArchive tools provide complete freedom of media materials control within the system. Any individual or group copy and transfer of media files between the storage devices are available.
One clip can simultaneously have multiple copies on different storage devices, including a copy of the video in low-resolution, which is always stored on-line and loaded first in the video window of user interface.
Operation
The process of adding a new material to the archive includes a new clip creation in database, text description input (to the standard fields or in any form), digital or analog video signal record to a video server disk array, ready files import from NLE system. During the import, the video files recompression with another codec and sound processing by the integrated sound processor are possible. If the material is placed only on videotape and does not have low resolution copy, the on-line access will consist only metadata stored in the database.
Integrated filters provide fast and efficient search of materials by a variety of criteria. Special categories filled by user allow description and search standardizing, increasing the speed of the required materials selection. If the found materials are on the on-line storages, they can be previewed and exported to any network station, copied or transferred to other system media storages.
If the found materials are on the off-line storages (or user actions require the involvement of off-line storages), an electronic application entering to the archive service is created. In this case the following actions can be performed: the transfer of material to and from tape cassettes, tapes backup, tapes handing over and taking back, the transfer of materials from the archival tapes to external, registration of new and writing-off the old tapes. The transfer of material to/from the tape is carried out using the Azimuth video servers. When video exporting, recompression with another codec is possible.
User generated the application always sees its completion status. For greater convenience of work with off-line storages, the VideoArchive system supports barcode printers and scanners.
All user actions are strictly regulated by the access rights.
Additions
VideoArchive can be useful to those television companies that already have video servers from other brands. Most of them do not have built-in tools for video describing and search and work only with files on the hard disk. In this case, VideoArchive can store large amount of data and provide quick search. When materials are required for broadcasting, they will be automatically copied to a network storage (in this case – video server array). Yet the copying process can be carried out with separate files (standard export function) and in stream mode. Thus, VideoArchive can increase productivity by optimizing business processes and eliminating unnecessary operations. The VideoArchive system is a safe investment and guarantee of profit.