An International exhibition NATEXPO 2019 is over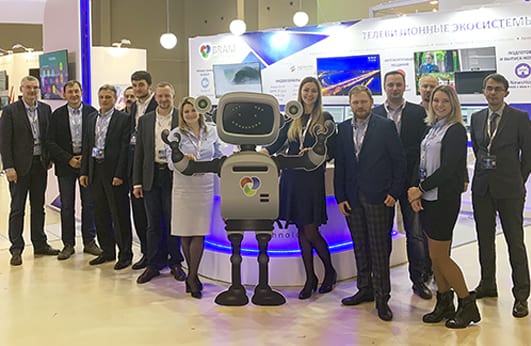 NATEXPO 2019 was held from November 5-7 in Moscow. It gathered many broadcast professionals from worldwide.
At NATEXPO 2019 BRAM Technologies powered by Azimuth Software showcased it's latest innovative solutions for Playout Automation, NRCS, Live Production with completely new features and it's videoservers.

Playout automation
NATEXPO 2019 saw the latest features in AutoPlay's functionality, including the ability to insert teletext and subtitles. And a new advanced graphics software module to enhance channel branding.
NRCS&News Production
Visitors to our stand could experience a new web platform News feeds ingest module NewsWeb to facilitate content distribution through Internet and an advanced graphics software module TitleStation Mix.
Live Production
Studio X, a system for multichannel record, playback and monitoring saw a new opportunity: real time quality of audio and video signals monitoring.
Videoservers
A portfolio of Azimuth videoservers was added by hybrid and IP videoservers which support ST 2110 standard.
Technical Conference
BRAM Technologies took part in the conference by making a report «Success story: a good experience in using BRAM Technologies' NRCS NewsHouse in regional branches of All-Russian Broadcasting Company VGTRK".
Maria Lebedeva, Head of Automation Systems Group from VGTRK's Regional Production Department talked about NewsHouse's competitive edge, features of implementation and difficulties VGTRK faced when transfering into NewsHouse.
Our very own Egor Usanin from Technical Support made a keynote speech about a new web platform News feeds ingest module NewsWeb which is aimed to facilitate content distribution through Internet.
Sergey Efimov, Regional Production Department Director from VGTRK made a report about a competition for youth «The First Step», aimed at revealing the most comprehensive projects in TV and radio industries. He talked about the experience, the key principals of organizing the events like this and the great impact they have on the youth and the whole industry.
Members of ATRP took part in a workshop for CTOs and reported about the new products developed for NATEXPO 2019.
"Today's broadcasters must compete with each other, meet tight budgets and deadlines, maximize the value of their assets and optimize businesses, so broadcast automation technologies must work more efficient," said Sergey Vanyukov, CEO at BRAM Technologies. And Alexander Petin, CEO at Azimuth Soft added: "We keep up to date. We constantly improve the existing products for playout automation, live production, NRCS. We also focus on new products development to exceed customer expectations. Thank for all the visitors for having the opportunity to introduce technology advances and making the event a success".